The days of settling for plain, grey concrete floors at home are over.
What is Decorative Concrete Flooring?
Decorative concrete is a form of concrete that is used not only as a material for construction but as an aesthetic enhancement to a home or commercial property. Decorative concrete is achieved through the use of various materials that are added prior to laying or are applied during the pouring process. With the same properties as regular concrete, decorative concrete serves as an integral part of the structure of a home and can be utilised for floors, walls, driveways and patios.
What Are the Different Types of Decorative Concrete Flooring?
As a versatile material, there are many types of concrete that can be used for a variety of flooring applications, both indoors and outdoors.
Polished concrete is created by grinding and buffing the application to create a beautiful, durable and high gloss finish. It is one of the most popular types of decorative concrete for indoor flooring available to homeowners due to its low maintenance qualities.
Exposed concrete is a decorative style that utilises a concrete base with an exposed top layer. This allows homeowners to create their desired mix of decorative elements like stones, pebbles, granite and gravel. Exposed aggregate is one of the most popular finishes to be seen in driveways!
Honed concrete, commonly found in pool and alfresco areas, is a decorative styling achieved through grinding and sealing the surface. This provides homeowners with a contemporary and stylish application.
A decorative flooring compound formed from crushed limestone and cement is known as liquid limestone. This provides homeowners with a material that boasts an attractive natural colour and appealing texture, as well as allowing for a pattern to be cut into the flooring.
Decorative Concrete Flooring Ideas: Indoors
There are a multitude of ways to incorporate concrete on the interior of your home. Concrete is a popular choice for indoor flooring applications as it can be used to create bespoke designs that are beautiful and elegant.
Acid-Stained Concrete Floor
Concrete flooring is a great material for internal floors throughout the home due to its low maintenance requirements. It is resistant to water and substances that can cause staining in most cases – which when combined with a deliberate stain to give a speckled appearance aids in hiding dirt.
There are numerous ways concrete can be coloured, but one of the most visually interesting methods is through the use of acid products. Acid-staining is the process of adding hydrochloric or phosphoric acid with salts and applying to a hardened, cured concrete slab. The acid opens the pores of the concrete and allows the salts to cause a chemical reaction, which causes the floor's surface to discolour.
Epoxy Painted Concrete Floor
Epoxy treatments are commonly utilised to seal and repair concrete subfloors. This is due to epoxy's durability and its ability to be poured into cracks and crevices to help in levelling the surface. Epoxy is available in a range of colours which provides homeowners the opportunity to create unique designs on their concrete floors. In fact, epoxy-painted floors make it possible to achieve all the same effects that can be created with regular paint.
Floor epoxy is a two-part compound comprised of a liquid catalyst and a liquid hardener. Rather than drying, epoxy hardens due to a chemical reaction between the ingredients, resulting in a hard, durable and glossy finish.
Combine With A Concrete Benchtop
Concrete benchtops have risen in popularity astronomically over the past few years as homeowners look to install durable yet elegant kitchen facilities in their homes. A stylish way to enhance the aesthetics of your home is by matching your concrete benchtop to your internal polished concrete flooring. This helps to create an upscale, cohesive look, while maintaining crucial functional properties of a kitchen bench including heat, scratching and chipping resistance.
Similarly, to concrete floors, concrete benchtops can be designed in an array of colours and finishes. Homeowners have the freedom to choose a rough, textured surface or they could opt for a diamond-polished smooth finish. This degree of flexibility makes matching concrete benchtops and flooring a popular choice.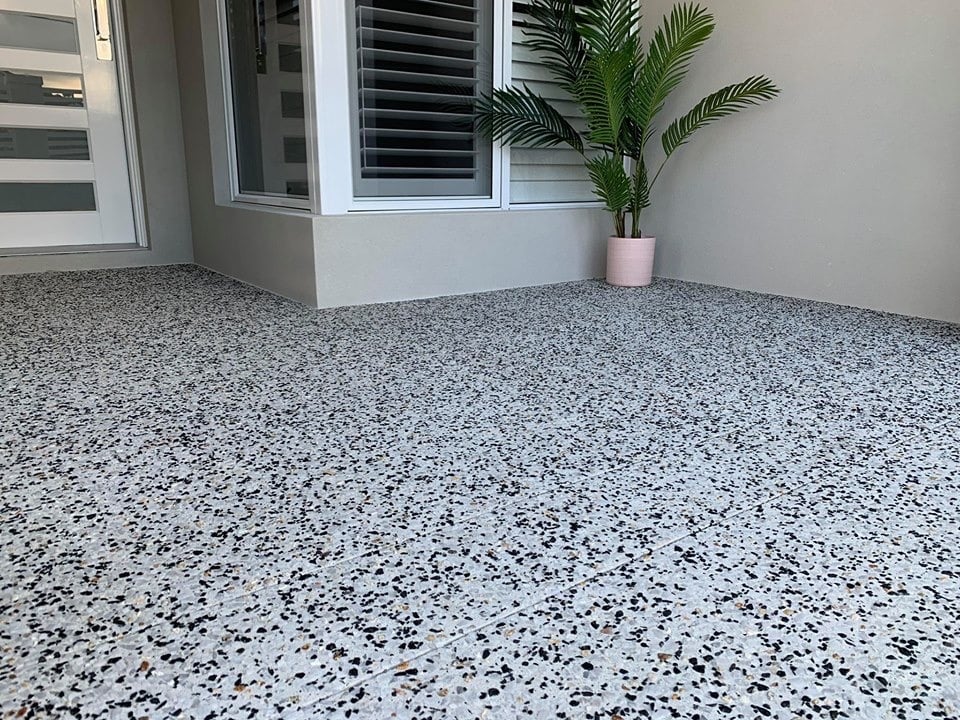 Decorative Concrete Flooring Ideas: Outdoors
Upgrading a backyard or outdoor area with a decorative concrete surface will allow you and your people to enjoy the space for many years to come. Decorative concrete floors are also a great way to add value and enhance your property's appearance.
If a smooth and flat surface is what you're after, then a honed concrete floor may be hard to surpass. Ideal for outdoor life, honed concrete is a low maintenance, stylish material that is perfect for patios, outdoor kitchens and dining areas. Alternatively, add a non-slip sealer and enjoy the smooth finish of honed aggregate and a seamless edge around your pool.  The finish is suitable to endure all the elements experienced with alfresco dining. Homeowners can select the aggregate utilised within their concrete mix, allowing the creation of unique, one-of-a-kind designs.
Stamped concrete is a decorative concrete technique that is achieved by stamping moulds on the surface of freshly laid concrete. This allows homeowners to create endless patterns, textures and colours within the home. Some popular textures and imitations of other surfaces for stamped concrete include cobblestone, brick, slate, natural stone, tiles and wood.
Key benefits of stamped concrete installation include its versatility and durability, as the surface fits seamlessly into areas of the home.
For a more decorative look, exposed aggregate offers homeowners a modern, speckled finish that is highly appealing to the eye. Exposed aggregate floors are achieved by removing the top layer of the concrete application to reveal the aggregate added into the concrete mix.
Benefits of exposed aggregate applications are not only aesthetic, as its durability and versatility are both key selling points for homeowners. Exposed aggregate surfaces are extremely hard wearing and are suited to external installations. The textured nature of the surface also aids in hiding blemishes such as scratches and stains.
Indoor-Outdoor living is an important considerations for many Australian homeowners, with the patio being one of the most used spaces in the modern home. It is crucial that your outdoor space not only looks great but is functional for use. Exposed aggregate is the perfect solution for stylish and practical outdoor spaces as it is extremely hard wearing but also high in visual appeal – perfect for bringing your patio area to life. The strength and durability of an exposed aggregate patio is ideal for withstanding weather conditions and standing up to heavy daily use.
Create Seamless Flow From Inside To Out
Indoor-outdoor living is a key consideration for homeowners in Australia, particularly in the warmer months. Being able to open up your back doors and feel as though your outdoor area is a natural extension of your home is highly sought after. Mirroring a concrete material on the either side of the door will help to create an open plan, continuous flow within your home.
Utilising polished, honed or exposed aggregate concrete will afford homeowners a sleek and cohesive finish that adds a sense of character to any outdoor area.
Trends in home layout have shifted in Australia, from a focus on large backyards throughout the 1980s to an increase in the size of the home at present day. Homeowners are now looking for ways to make a striking impact outdoors with limited space. A small concrete patio with matching concrete walls aids in allowing the smaller details to stand out. Plants, outdoor furnishings and accessories now become the star of your patio's show as the matching floor and walls provide you with a stripped back look that lets the other elements come to the fore.
Limecrete's Decorative Concrete Solutions
Limecrete is the premier decorative concrete supplier in Western Australia, specialising in the creation of decorative concrete products within our own facilities, making use of cutting-edge technology. Our team has a wealth of experience and resources, enabling us to provide a full range of high-quality products with unparalleled consistency. We source premium components to ensure our concrete products not only stand the test of time, but provide you with a unique, eye-catching application. Our vision at Limecrete is to provide consistency, value and exceptional customer service for all your decorative concrete needs. If you have a project you want to get started with, get in contact with our friendly service team.